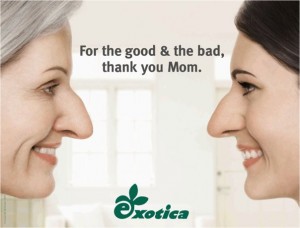 Photo from
Joe's Box
They responded yesterday by replacing the old billboards by the ones below, delivering a new message in the same context.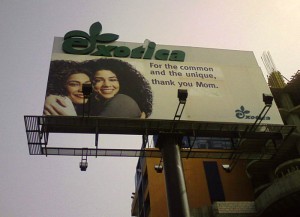 Photos taken by
Maya Zankoul
They either INTENDED to create a controversy with their first billboards to get people to talk about them OR they simply got convinced through the feedback they got that what they did is not right and so they created the new billboards. In the first case they proved to be smart, while in the latter they proved to be listening to what the public is saying online! Either way, they're doing a GOOD job!
Have you heard of
Ivy
? She has been blogging for 2 months now rebelling against some of the Lebanese society standards by motivating single girls to make the first move and hopefully have a good valentine this year instead of just waiting for guys to approach them!
In no time, Exotica felt excited about
supporting Ivy's cause
, and they were ready to team up with her in organizing a Valentine related event called "
Decode My Rose!
" which consists of distributing roses to single girls to give to the guys they like!
So I decided to go with my fiancée last night to Gemmayze to check on the Decode My Rose campaign, and yes she made a move on me (as if she needed to do that!) by handing me this one.
And now I just have to decode it…
Categories:
Lebanon
achrafiyeh, dating, decode my rose, e72, exotica, gemmayze, ivy says, Lebanon, Photography, roses, valentine 2010, valentine ideas
Late in November I started following Exotica's campaign for Christmas 2009 titled "My Different Christmas", the campaign is apparently targeting internet users, because I haven't yet seen its supporting video on any local TV station. And no we're not used to that in Lebanon!
The idea behind the campaign is helping people to think and celebrate differently this year via a special blog by the "cool" Christmas activist "Lucie". As you will see, Lucie is a funny grandmother posting about Christmas DIY gifts, recipes, and decoration ideas, and that's exactly what I need in this period as I am participating in the secret Santa game at work! The blog
can be found here
.
The reason behind Lucie's initiative to start the blog
I believe the purpose of the blog goes beyond just providing ideas, Exotica is actually doing a good job communicating with internet users in a way that is much different and more efficient than the classical newsletters we get on a daily basis in our mail boxes. I salute those who are behind this campaign!